Muyang offer complete feed mill construction solutions with advanced technology, efficient equipment, professional installation, complete support and quality service. The daily output of various feed mills Muyang undertook is 100-1,000 tons.
Solutions
Feed mill industry solutions
Muyang is the global leader in feed machinery manufacturing and engineering installation, feed machinery standardization and feed industry technological progress promotion. Muyang export products and solutions to more than 80 countries worldwide.
Muyang provides feed production industry with comprehensive solution of the widest range and the highest level of technology, from a single feed processing machinery and equipment to the entire feed production lines and the new feed mill multi-level comprehensive solutions. For example, for the new feed mill customers, Muyang overall solution include: overall design, plant, steel silo, transportation equipment, feed, machinery equipment, electronic control system, etc., providing users with high-quality, most intimate of "turnkey" engineering services.
Muyang not only provides customers with feed processing equipment and technology, but also provides customers with personalized service, maintenance and training opportunities to help feed factories to run in the most economical way and gain higher benefit and strong competitiveness.
1.Feed production solution design
(1)Determine the scale of feed mill
(2)Determine the feed process and recommend equipments
(3)Control mode selection
(4)Plant structure selection
(5)Planning the general drawing of plant site
2.Muyang typical feed production line solution
(1) Professional livestock&poultry feed production line
Based on the livestock feed market characteristics, Muyang provides livestock ( pigs ) , poultry ( chicken, duck, goose , etc. ) , and other special animals ( rabbits , foxes , wolves , etc. ) feed production line solutions , Muyang livestock feed production line solutions is on the module design basis and tailored to the particular requirements of clients, fully meeting customers' variety of different feed production requirements along with complying with the most stringent hygiene standards for to produce green, clean , hygienic safety animal feed. Muyang is constantly upgrading technology and process development , in accordance with the safety standards of the European feed manufacturing, providing customers with first-class products and services. Muyang animal feed production process can produce the maximum feed conversion ratio of animal feed, ensuring both the economic interests of feed manufacturer and the health of animals, so the green safety of the food chain downstream products is guaranteed. For a long time, Muyang possesses the most advanced technology in manufacturing technologies of feed machinery industry and integrates them into products and projects.
Muyang solutions feature great flexibility and customizability. According to customer different feed types, different output configuration can be customized. For instance, Muyang livestock and poultry feed production solutions applicable for the following general customer needs:
a pig feed production line : 4 to 45 TPH
a chicken feed production line: 3 to 40 TPH
a duck feed production line: 2 to 35 TPH
…….
For those customers whose capacity does not list in the above production line range, Muyang can makeailored solutions for customers to meet their special requirements.
Muyang livestock&poultry feed pelleting process is as follows :

Muyang provides customer with grinder, mixer, pellet mill, extruder, electric control, automatic packaging equipment and systems of the globally most advanced technology, widest range and the most international certification. Muyang livestock&poultry feed production solutions have been successfully applied to countless customers worldwide, with at least 60% of the top 50 feed manufacturer are Muyang's customers.
(2) Agua feed production line
Muyang leading aquatic animals (fish, shrimp, crab, etc.) feed production line solutions meet customer's individual line from 0.5 to 30 tons per hour production needs.
How to choose a high-quality, low-cost, high-grade fish feed, fish feed production process technology program? It lies in the production process. As technology and market leader in the industry, Muyang knows that in aquatic feed production process, in addition to reasonable formula, a very important point is that the process must be gentle to prolong the feed in the water-soluble, which is very important to aquatic animal health and growth. Muyang has the most experienced design engineers, reasonable recommendation, diversified technology production line design.
How to choose right crushing equipment and optimized mesh system to improve grinding efficiency, reduce energy consumption? Muyang has the world's top grinding technology for customers to build high-value, low-power type crushing system.
Muyang extruding process uses fully automatic extruding process, automatically microcomputer steam added technology, precise control of the sinking and floating material; computer conditioning control, "tiptronic" better control the degree of maturation, improving the ripening degree and digestion and absorption rate. Cooking or curing molding extrusion and molding granulation process, pre-conditioning process and final conditioning process altogether determine the characteristics of the final product. Muyang provides customers with the best technology and products to help customers get high-quality aquatic feeds.
With Muyang extruding and pelleting technology, customers can minimize costs while ensure optimal product quality and maximize revenue. Meanwhile, customer can produce ideal feed of maximum digestibility and feed conversion ratio, so the overall health is guaranteed.
Muyang shrimp feed pellet mill process is as follows:
Typical aqua feed production line design drawing is as follows:
Muyang aqua feed production solutions are applied in over 100 countries and regions all over the world.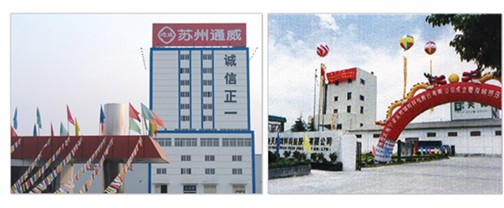 (3) Ruminant feed production line
Based on the ruminant feed market characteristics, Muyang provides a full range of ruminants (cattle, sheep, etc.) animal feed production solutions and turnkey projects, Muyang ruminant feed production line solutions meet customers 5 to 45 tons per hour production needs.
Muyang has the world's advanced cattle and other ruminant animal feed processing technology, according to the ruminant digestive physiology unique characteristics and nutritional requirements of cattle and pig feed, poultry feed and feed in the feed formulation process is very different modulation. Muyang can provide customers according to their tailored demand with the most suitable processing technology and equipment. Muyang equipment of efficient and reliable production contain a patented technology, which can minimize the production of contamination and cross-contamination, and achieve traceability throughout the production process.
Muyang ruminant feed production solutions are applied in more than 100 countries and regions all over the world.
(4) Premix feed production line
Muyang premix feed production line solutions meet customers 1 to 45 tons per hour production needs with turnkey service.
Muyang not only provide customers with pre-mixed feed processing equipment and technology, but also provide customers with a full range of personalized services to help feed factories to run in the most economical way, bringing to them higher benefit and strong competitiveness.
Muyang pre-mix feed production solution has the following unique advantages:
High precision micro-component proportioning system, ensuring that the ingredients of various trace elements, measurement precision. Customers can add a variety of trace elements, drugs, improve animal disease prevention, disease resistance;
Dedicated equipped with efficient "hybrid king", mixing speed, high uniformity, low residue, CV ≤ 1%, ensuring mixing precision;
Unique injection device is equipped, minimally reducing residual materials;
Professional premix production, one large and one small mixer using process configuration, according to the premix varieties recommended rationalize production, reducing energy waste and production costs;
Carrier ingredients, using a dedicated bin, strict procedures, preventing cross-contamination of ingredients;
after blending , the material is conveyed by positive pressure pneumatic, abandoning the traditional mechanical transmission, greatly reducing the residual refuse cross-contamination, which contributes to clean, hygienic and safe transport effects;
Reasonable and effective dust removal system, all the material inlet and outlet are equipped with centralized dust pulses, thus reducing dust pollution and dust will be strictly controlled by the state below standard.
Muyang premix feed production solutions are applied in more than 100 countries and regions all over the world.
(5) Pet food production line
Muyang pet food production line solutions meet customers' individual lines from 0.1 to 15 tons per hour production needs, providing turnkey engineering services.
Pets are man's best friend. High-quality pet food not only attracts animals in appearance, but is infinitely delicious and healthy as well. But only the advanced production technology and processes can achieve this production standard. Muyang extruding process is cost-effective, reliable with gentle processing techniques and is the best choice for pet food producers.
Only a balanced diet can help pets get comprehensive health. Muyang pet food solution has the following unique advantages:
perfect the production of pet food, according to customer requirements flexibly adjust product formulations size, shape, and moisture content, and in accordance with the requirements of coloring, flavoring and add various powder ingredients;
Muyang extruding process strictly oriented to customer value, automatic extruding process, automatically microcomputer steam added technology, precise control of sinking and floating material;
Conditioning computer controlled "tiptronic" better control of the degree of curing, curing degree and improve digestion and absorption rate;
System conditioning pellets sterilization using oxygen, can effectively kill all bacteria, improve the quality of feed, while maintaining the valid lifetime vitamins;
A full range of technical support services, recommended micro-grinding and ultrafine grinding equipment, reasonable control of grinding fineness suitable both for pet food needs and rational use of energy;
variety airless spray equipment, leading technology, quality assurance finished materials; Muyang goal is to produce a higher quality pet foods and minimize production costs and maximize benefits.
Muyang pet feed production solutions are applied in more than 100 countries and regions all over the world.
3.Main equipments
(1) For Large livestock&poultry feed plant to choose
Leading advantage:
first choice to buy for global top 50 feed producers
represent the highest technology level in industry
same power, higher capacity
more stable, longer life
same investment, higher benefit
……..
Muyang Double-circle Mixer
-essential equipment for livestock&poultry feed plant!

| | |
| --- | --- |
| | Muyang doule-circle mixer volume:0.2m³、0.5m³、1m³、2m³、3m³、4m³、6m³、8m³ eight specifications. |
Leading advantages:
International patent double rotor design, inside and outside the double-blade design enhancements material convection, shearing, mixing, mixing uniformity up to 97.7%.
blade and chassis an optimal gap, ensuring residual rate of ≤ 0.1%, avoiding cross-contamination of materials;
Full-open discharge door, instantly emptying the material, no residue
discharge door using silicone seals, ensuring no leakage, and long life; Shaft using a specially designed packing seal, ensuring no leakage.
Muyang"SLHSJ"serie double-shaft efficient mixer
-essential equipment for agua feed and premix feed plant!
| | |
| --- | --- |
| | Muyang doule-shaft efficient mixer volume 0.1m³、0.2m³、0.5m³、1 m³、2m³、3m³、4m³、7m³、8m³、10m³ ten specifications |
Leading advantages:
Wide application
Applicable material mixing a variety of industries, the effective volume of the body large; You can add a variety of liquid (such as: water, molasses, oil, etc.).
Good quality equipment
Smooth, gentle mixing, no damage of material original characteristics.
High efficiecy
Short mixing time (45 ~ 60 seconds / batch), blending uniformity coefficient of variation (cv) less than 3%, less power consumption.
Less residue
Original "drive bays full length double-door" patented technology, the material quickly, the maximum possible reduction of residues.
Muyang water-drop hammermill
Leading advantages:
compound grinding chamber
Effectively destroy circulation, promote convection material layer, thereby improving the efficiency of grinding and the sieve, improving production.
crushing mode oflow power consumption
New tooth plate structure, improve crushing methods, increasing the crushing effect of friction, improving energy efficiency, reducing the crushing power never.
high-precision balancing rotor
Stable and reliable equipment operation, prolonging using life.
Humanized operation
Shift operation can be fully open doors and hammer replacement auxiliary structure, operation, maintenance and replacement hammer more convenient time-saving.
Muyang Pulverizer



High capacity, low power consumption, super stable running




By the authority (China Fishery Machinery and Instrument Quality Supervision and Inspection Center) Detection: Muyang SWFP66 series pulverizer sees significantly high capacity than that of similar products of other brand, and the power consumption is also lower than others.



Muyang twin-screw extruder



High torque, high speed, high pressure




Basic modular structure, the combination of the individual modules, meeting customer-specific applications, providing the best tailored extrusion system.



(2) Essential equipment for medium and small-sized livestock&poultry feed plant
Muyang 350 serie pellet mill



Superstable running,Surging power transmission

Meet production needs
Poultry feed:4-6t/h
Chicken feed:3-5t/h

Leading advantages:
manufacture in accordance with international standards of advanced technology
advanced dual-stage drive system, stable and reliable performance, low noise;
key parts are imported, long life, low maintenance costs;
spindle alloy steel forging, high durability and good toughness;
equipped with semi-automatic oil adding equipment to facilitate lubrication;
widely used for high quality poultry feed, aquatic feed, compound fertilizer and other materials granulation.
Muyang MUZL420TW(V4)Pellet Mill
-recommend for medium-sized livestock&poultry feed plant!




Meet production needs




Poultry feed:12-14t/h




Chicken feed:10-13t/h



Leading advantages:
High capacity
Muyang "Jin Chi" V4 new particle machine (55kw * 2), production of chicken feed, 3.0mm aperture ring die, production up to 13t / h or more.
Low cost
Belt drive for routine, maintenance costs are very low, compared with the gear box, no requirement of lubrication and easy maintenance.
super stable
The most popular use of international dual-motor synchronous drive, dual-motor drive is the preferred way to Europe and other developed countries, the unique stable belt type transmission, more secure and stable.
Humane
A variable frequency motor feeding, overload protection device, outboard discharging mechanism, the necessary security settings, the use of more safe and secure.
4.Why choose Muyang solutions?
-good brand, good reputation, good products, good service!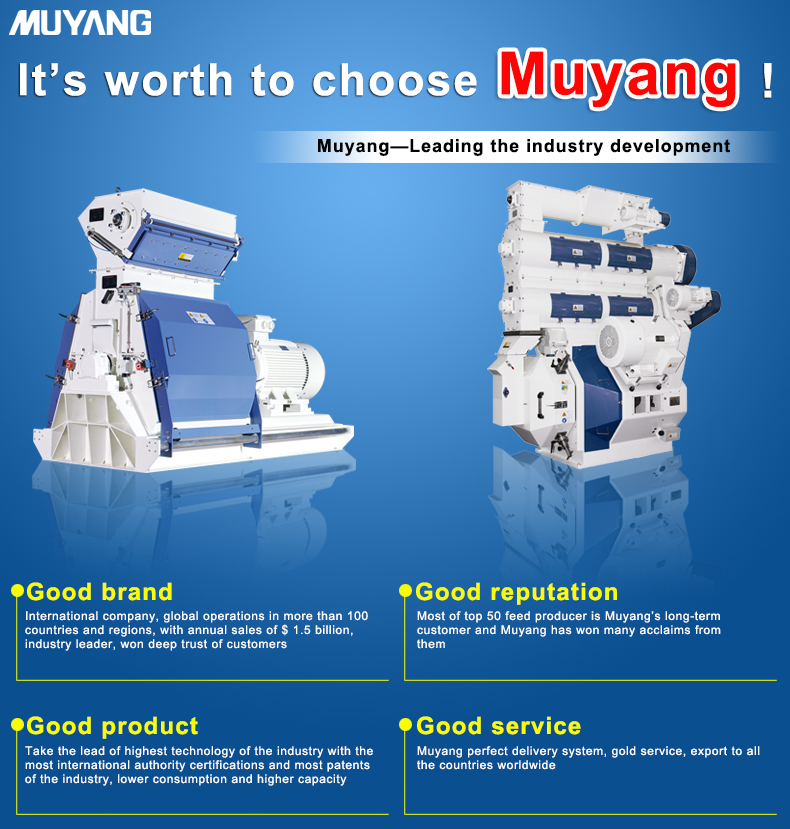 (1) Good brand
International company, global operations in more than 100 countries and regions, with annual sales of $ 2 billion, industry leader, won deep trust of customers.

(2) Good reputation
Most of top 50 feed producer is Muyang's long-term customer


Today's success is not easy to come, .... stick and struggle together, day and night, and ultimately job is well done. Muyang is Chia Tai Group's long-term partner. Tonggui Chia Project successful implementation is not only of great significance, but also a good example for both sides in cooperation of overall contracting projects!
— CP Group Inner Mongolia 2013-5
"Showing the spirit of Muyang, the extruded material for the production of our own strength gave way, from which we can learn a lot about the extruded material extruder operating knowledge and knowledge ... Thank to Muyang for his hardworking this time, helping our production of extruded material, hope thereafter Muyang Group can work with us, very grateful. "
—

COFCO Feed (Xin Yi) Co.,Ltd. 2013-6-28
"On the occasion of an annual output of 180,000 tons of Changde Dabeinong fish feed production line complete sets of high-end items of equipment debugging success on the occasion, on behalf of Changsha, express my heartfelt thanks to Jiangsu Muyang Group to participate in this project construction of Changde Dabeinong Division. ... obey the Party, scientific arrangement, rational organization, inverted schedule in advance by node successfully completed the installation and commissioning works, especially in debugging to get the attention of leaders at all levels of your company and support your efforts to ensure the smooth construction schedule production, but also the two sides established a good cooperative relationship, express my sincere thanks once again for the company 's efforts in this project"
—

Changde DBN Feed Co., Ltd. 2013-8-5
"Company sent two engineers Xu Lei to participate in the project, he has given us a lot of professional guidance, improved extruding technology and gave staff great help ... the spirit of dedication to our admiration, I am very grateful for the company! "
— Jingzhou Haida Feed Co. 2012-12-25
"Continuous operation 12 hours until late at night, ensure the normal evening feed production, feed for the Division I win the normal supply of time. The action of Muyang shows a great concern for customers and race against time for customers. It gives me deep impressed with the after-sales service of Muyang. We are willing to stand hand in hand with China Group hereby thanks! "
—

Jiaxing Li Hua Livestock Co., Ltd. August 4, 2013
(3) Good product
a Take the lead of highest technology of the industry
Possess Nanjing, Germany, the U.S. Institute, the introduction of first-class team of experts in Europe and America, leading the industry's highest level of technology;
hire top talent in the global research and development, such as the Kansas State University professor and expert on Japanese technology pellet mill and other major models to optimize the design and research;
global leader in feed machinery industry standards
the only "national post-doctoral research station" in the industry
pass through the most authority of the certification in the industry

b The global most advanced manufacturing technology

Intelligent welding robot system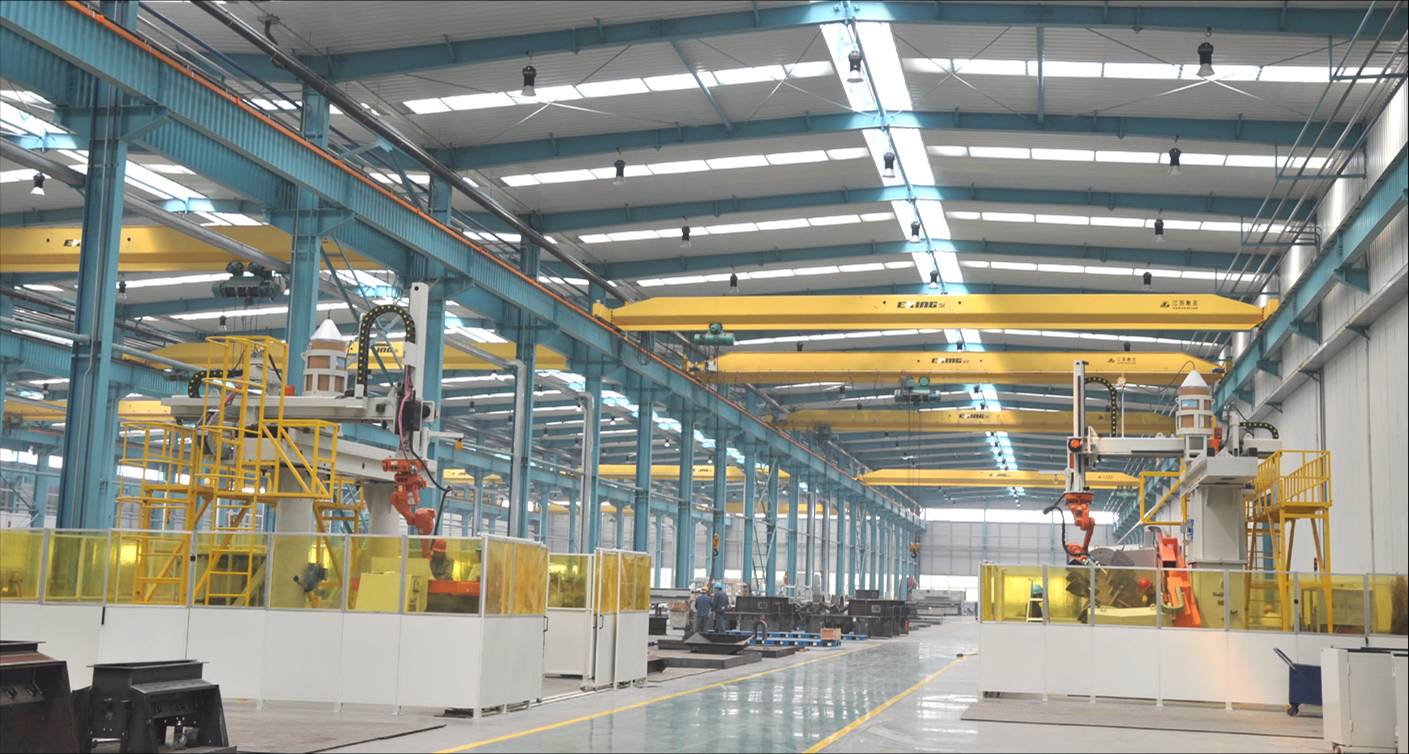 Intelligent painted lines
c Globally most advanced, biggest manufacturing and R&D base of the industry

(4)Good service
a Muyang perfect delivery system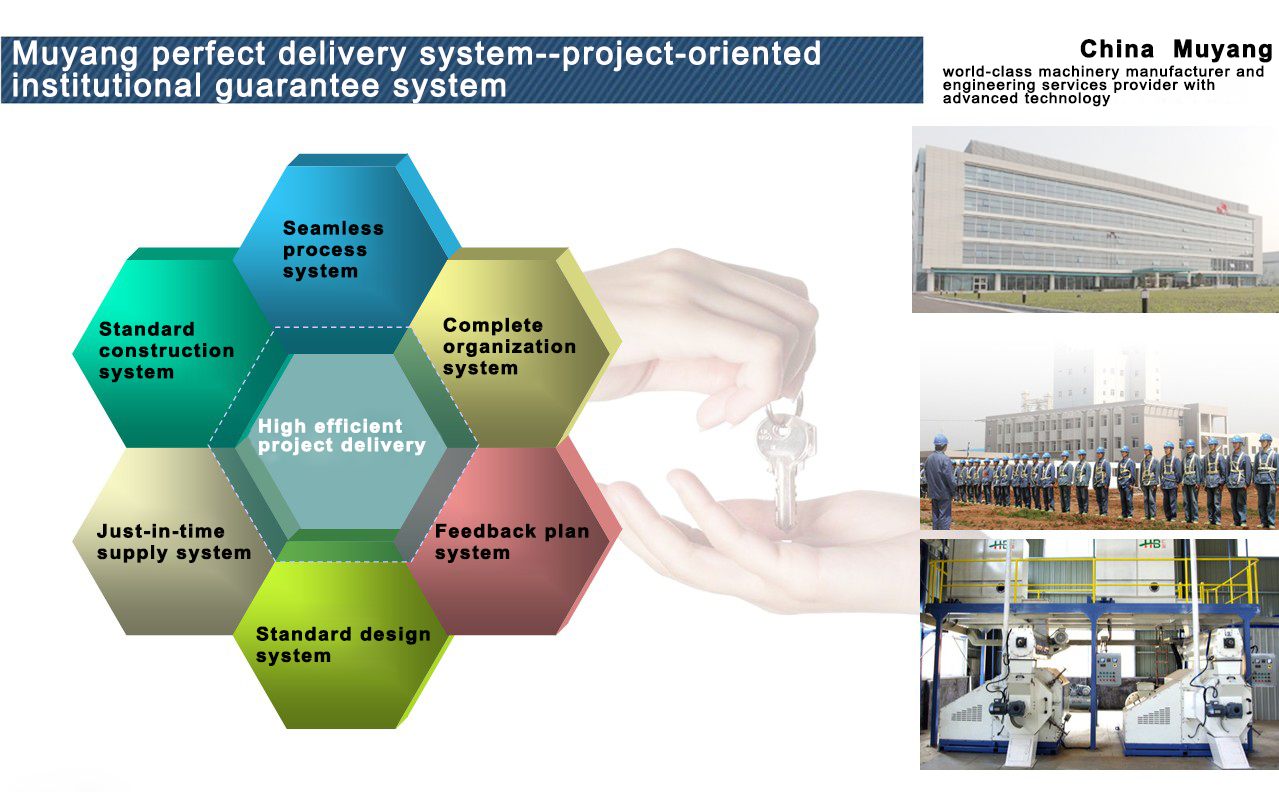 b Gold service
Currently Muyang marketing and service network cover around the world in more than 80 countries and regions with branches or offices. Muyang has a strong localized sales and service teams, providing global customers with localized pre-sales consulting, solution design, product customization, project implementation, equipment installation, maintenance, warranty and all other services.
Muyang creates gold service system for the clients. Customers can call 24 hours service hotline. Muyang gold service system will respond to customer at the first time, providing customers with convenient, comprehensive, expert advisory services.

Face-to-face expert, service without distance!
Above solutions have been successfully applied to the world's leading feed production enterprises as follows: