Muyang Steel Silo
Detailed Product Description
1.Over 40 years experience and rich expertise;
2.Wide storing capacity range, 1~18000 tons for single silo;
3.The biggest sucessful story: half million tons of silo project in Algeria;
4.Effective global sales network;
5.For storing wheat,large capacity;
6.From intake,cleaning system,dryer,silo.

Notes:For independent storage project, Muyang only undertakes construction with single silo more than 500 tons. If the silo is matching engineering of other projects,such as feed mill, the silo capacity can range from 1 ton to half million ton or more.
Product Details
| | |
| --- | --- |
| Place of Origin | Jiangsu, China (Mainland) |
| Brand Name | Muyang |
| Certification | ISO 9001:2000; ISO 9001:2008; CE |
| Material | Galvanized steel |
Payment & Shipping Terms
Price:
FOB USD 1000~200000 / Set
Click "Add to inquiry Basket" to Get Latest Price
Minimum Order Quantity:
1 Set/Sets
Port:
Shanghai
Packaging Details:
40' containers
Delivery Time:
90 days
Payment Terms:
PayPal,L/C,T/T
Supply Ability:
10 Set/Sets per Week
Features of assembly type steel silo
1, Large capacity
One single-silo capacity is up to 18,000 tons with comprehensive configurations to meet customers' different requirements.

2, Good sealing performance
The silo is of a good sealing performance and can be used as a fumigating silo.

3, Long service life
Best sheets match to silo body enables a normal service life up to 20-25 years.

4, Detachable and movable
With standardized and modularized production, components and parts have a high standardization and good interchangeability, thus can be partially replaced or completely transferred.
The seven ways of material discharge
Why choose Muyang solutions?
-good brand, good reputation, good products, good service!

1 Good brand
International company, global operations in more than 100 countries and regions, with annual sales of $ 2 billion, industry leader, won deep trust of customers.

2 Good reputation
Muyang silo engineering solutions have been widely used in the world and widely praised by customers.


"The construction of Qingdao Xing Hua Grain silo project has now been completed successfully and it has been properly put to use, thanks to your company. ... very good performance, our top leaders speak highly acclaimed and praised. .. Not only improve the overall progress of the construction, for the Division I win the production time, but also benefit for the Muyang Group, establishment of a good corporate image. Hopes to cooperate again! "
------ Qingdao Xing Hua Oils & Foodstuffs Co., Ltd.
3 Good product
(1) Take the lead of highest technology of the industry
Possess Nanjing, Germany, the U.S. Institute, the introduction of first-class team of experts in Europe and America, leading the industry's highest level of technology;
hire top talent in the global research and development, such as the Kansas State University professor and expert on Japanese technology pellet mill and other major models to optimize the design and research;
global leader in feed machinery industry standards
the only "national post-doctoral research station" in the industry
pass through the most authority of the certification in the industry

(2) The global most advanced manufacturing technology

Intelligent welding robot system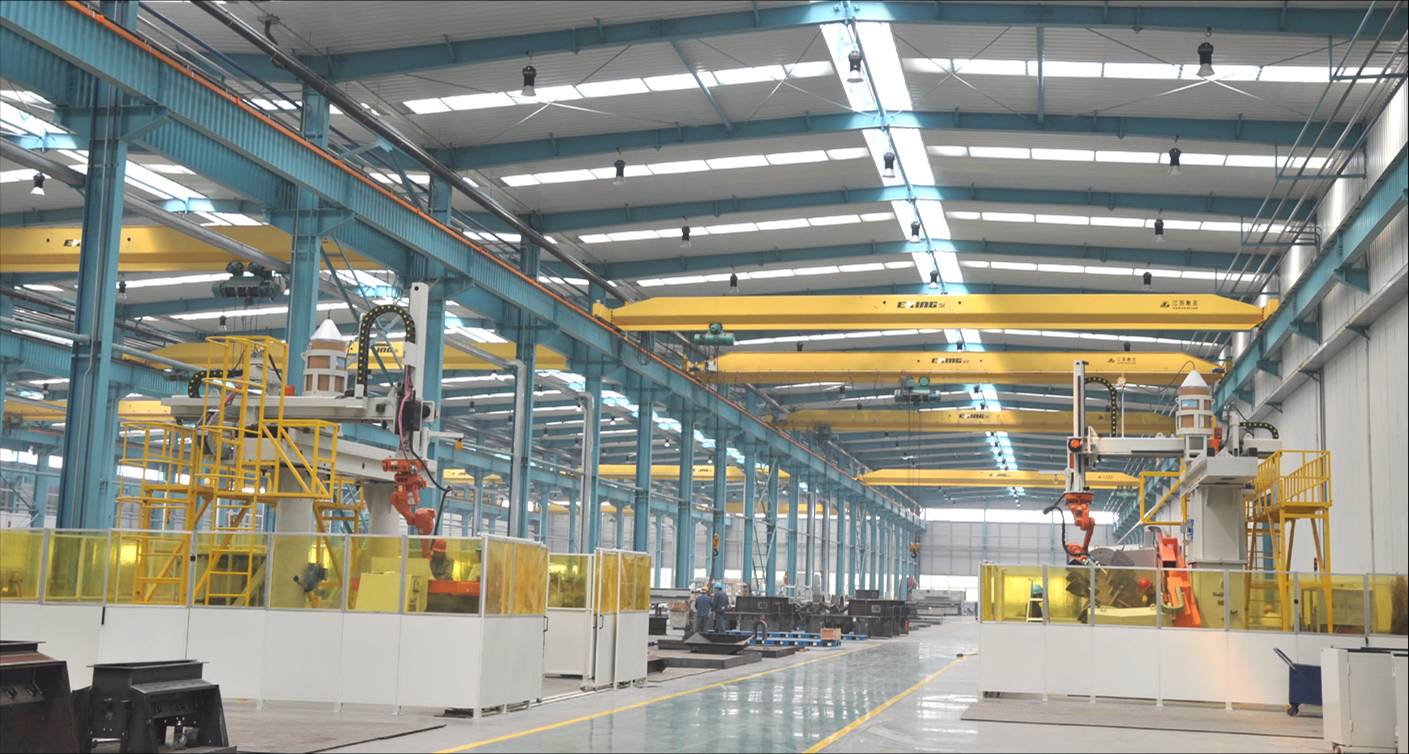 Intelligent painted lines
(3) Globally most advanced, biggest manufacturing and R&D base of the industry

4 Good service
(1) Muyang perfect delivery system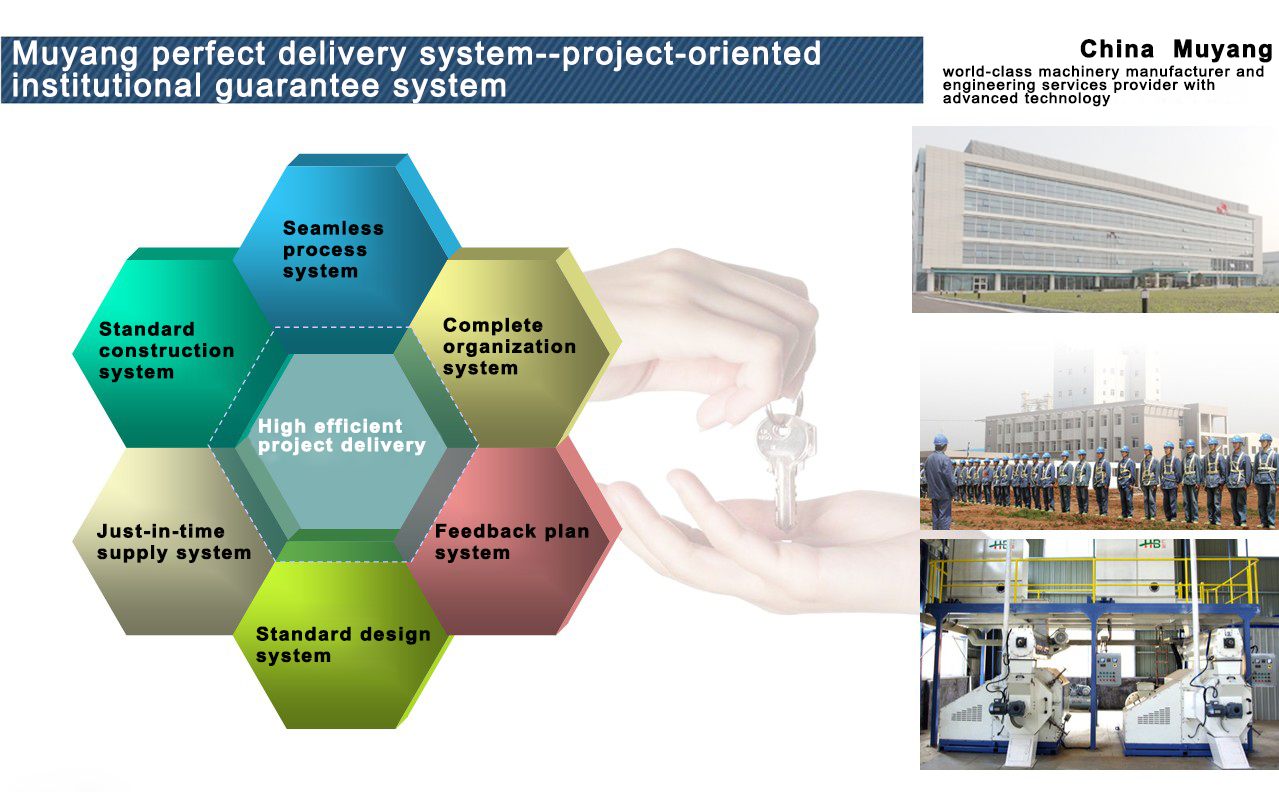 (2) Gold service
Currently Muyang marketing and service network cover around the world in more than 80 countries and regions with branches or offices. Muyang has a strong localized sales and service teams, providing global customers with localized pre-sales consulting, solution design, product customization, project implementation, equipment installation, maintenance, warranty and all other services.
Muyang creates gold service system for the clients. Customers can call 24 hours service hotline. Muyang gold service system will respond to customer at the first time, providing customers with convenient, comprehensive, expert advisory services.

Face-to-face expert, service without distance!
Part of typical customers:
Maintenance and cleaning
Only professional persons can carry out maintenance and shall well know relevant stipulations in the documents provided by us. These stipulations are helpful for keeping the equipment in good condition, reducing wear and prolonging the service life. Cleaning shall be done according to relevant legal stipulations and explanations in the documents provided by us.
Storage
The equipment, which cannot be installed in predetermined place immediately, must be stored in a weatherproof place with facilities against external infringement in original packages. Any loss arising from storage shall be only conducted as per the principle specified in the Supply Contract.
Installation
The equipment and parts manufactured by Jiangsu Muyang Group shall be installed only by the trained technical personnel based on installation specifications provided together with the equipment.
Startup and commissioning
Startup and commissioning shall only be done by trained personnel. The instructions and operation regulations in provided documents before startup. Lubricating before startup, such as oil for variable speed devices.
Accident prevention
The accident prevention rules in related documents must be well known and MUYANG Group devotes to manufacturing machinery equipment according to Standards (CE Certification Standards).
Customers shall tell us the local manufacturing. Additional expenses there from shall be borne by customers.
Contact us
If you have any questions or after-sale problems, please contact us in time.
TEL:+86-02134970680(00:00--10:00 GMT)
E-Mail: machineryshops@muyang.com
Step instruction:
1、Click "type" and "power" to choose the type and power of commodity you need.

2、 Click "add to cart"to adding commodity to cart. If the commodity you are purchasing has no accurate price, please click "add to inquiry basket" and fill in your personal information. Our staff will provide quotation for you when verify the orders and automatically help you to complete the purchasing list.


3、You can choose needed logistics way and delivery place when purchasing.

4、 Our staff will provide quotation according to your chosen logistics as verifying the orders. You can click "to pay" to check price and payment. If you have any question about quotation, please contact our staff in time for answers.

Payment methods:
We support online PAYPAL payment and offline TT payment. Please inform our staff after finishing the payment.
Quality description:
All of our machinery are tested strictly when shipped from factory. And we apply machine one-year warranty.
Contract description:
Generally, we default the online order as the contract. If you need a formal contract, please contact us, we will provide you with the formal contact.
Delivery:
1,Once the advance payment is received,we will arrange production The percentage of advance paymen must be 30% of total amount.
2, Delivery time for single machine is at least 45 days and usually about 2 months. For the complete equipment, we will make proposal, design drawings and confirm with you, thedelivery cycle about 3 months.
3, Total amount must be paid prior to the delivery. TT and online payment are accepted.
4, If you are not satisfied with the offer of logistics, you can appoint logistics company.
5, One-time delivery and partial delivery both are allowed.
6,For machines, sea transportation is recommended; for accessories and parts, air transportation is optional.
7,All price information on website is for reference only, final quotation will be determined by our sales staff according to customers sutitation after inquiries and orders received.
Note:Under special circumstances, the date of delivery will be extended for a reasonable length of time.
Country of origin:
Products are manufactured by Jiangsu Muyang Group Co.,Ltd. of China. Adopting international advanced technology, Muyang imports large proportion of components to do the final assembly.
Acceptance of the goods:
A check on appearance should be made immediately when the equipment is transported to the destination. If it is sure there is any damage caused during transport, a necessary claim procedure must be taken according to the supply contract. The repair expense shall be borne by relevant risk undertaker.