Globally,over 5,000 sets of machines are running for a long time,showing outstanding performance stability.
Muyang over 40 years´ mixing machine manufacturing experience, is worth trust with excellent quality.
■ Extensive applicability,14px effective volume, and addition of manifold liquids e.g. water, molasses and oil etc;
■ Stable running, soft mixing, no damaging raw material properties;
■ Short mixing period (45~60 s/batch) and high mixing homogeneity (CV≤5%, may be up to 3%);
■ Patented double-leaf discharging control mechanism features fast material discharging without any leakage and residue.
Quality guarantee
We are responsible for the quality guarantee specified in the Contract, but the precondition is: the real spare parts manufactured by Jiangsu Muyang shall be certainly used. Any losses caused by using the spare parts from other manufacturers shall not be borne by our Group. Any losses caused by improper operation or disobeying our operation regulations or wrong operation by untrained personnel shall not be compensated by our Group.
Why choose Muyang solutions?
-good brand, good reputation, good products, good service!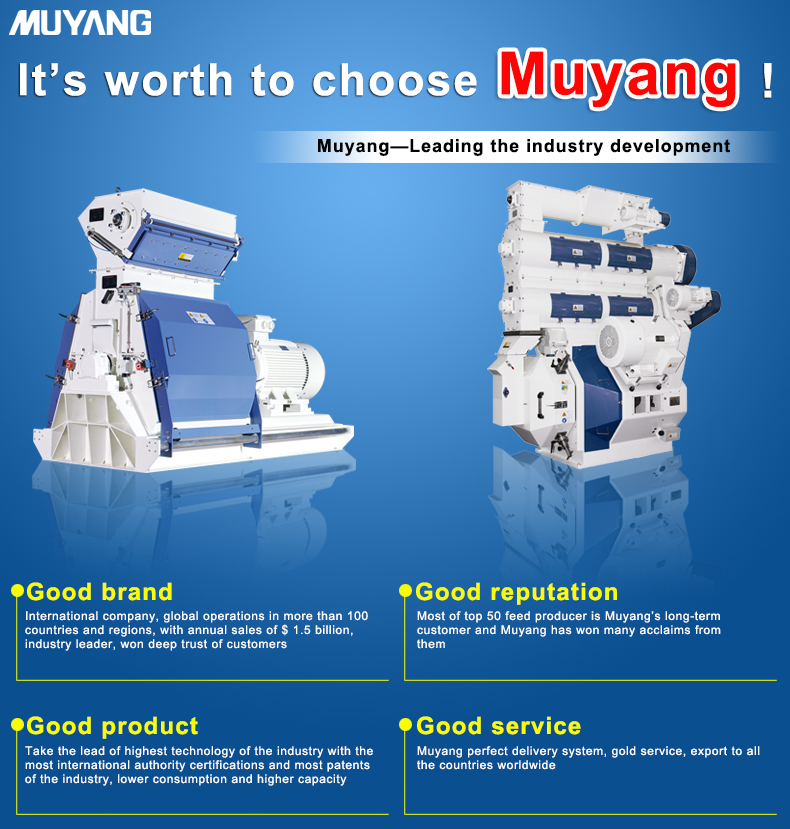 1 Good brand
International company, global operations in more than 100 countries and regions, with annual sales of $ 2 billion, industry leader, won deep trust of customers.

2 Good reputation
Most of top 50 feed producer is Muyang's long-term customer


Today's success is not easy to come, .... stick and struggle together, day and night, and ultimately job is well done. Muyang is Chia Tai Group's long-term partner. Tonggui Chia Project successful implementation is not only of great significance, but also a good example for both sides in cooperation of overall contracting projects!
— CP Group Inner Mongolia 2013-5
"Showing the spirit of Muyang, the extruded material for the production of our own strength gave way, from which we can learn a lot about the extruded material extruder operating knowledge and knowledge ... Thank to Muyang for his hardworking this time, helping our production of extruded material, hope thereafter Muyang Group can work with us, very grateful. "
—

COFCO Feed (Xin Yi) Co.,Ltd. 2013-6-28
"On the occasion of an annual output of 180,000 tons of Changde Dabeinong fish feed production line complete sets of high-end items of equipment debugging success on the occasion, on behalf of Changsha, express my heartfelt thanks to Jiangsu Muyang Group to participate in this project construction of Changde Dabeinong Division. ... obey the Party, scientific arrangement, rational organization, inverted schedule in advance by node successfully completed the installation and commissioning works, especially in debugging to get the attention of leaders at all levels of your company and support your efforts to ensure the smooth construction schedule production, but also the two sides established a good cooperative relationship, express my sincere thanks once again for the company 's efforts in this project"
—

Changde DBN Feed Co., Ltd. 2013-8-5
"Company sent two engineers Xu Lei to participate in the project, he has given us a lot of professional guidance, improved extruding technology and gave staff great help ... the spirit of dedication to our admiration, I am very grateful for the company! "
— Jingzhou Haida Feed Co. 2012-12-25
"Continuous operation 12 hours until late at night, ensure the normal evening feed production, feed for the Division I win the normal supply of time. The action of Muyang shows a great concern for customers and race against time for customers. It gives me deep impressed with the after-sales service of Muyang. We are willing to stand hand in hand with China Group hereby thanks! "
—

Jiaxing Li Hua Livestock Co., Ltd. August 4, 2013
3 Good product
(1) Take the lead of highest technology of the industry
Possess Nanjing, Germany, the U.S. Institute, the introduction of first-class team of experts in Europe and America, leading the industry's highest level of technology;
hire top talent in the global research and development, such as the Kansas State University professor and expert on Japanese technology pellet mill and other major models to optimize the design and research;
global leader in feed machinery industry standards
the only "national post-doctoral research station" in the industry
pass through the most authority of the certification in the industry

(2) The global most advanced manufacturing technology

Intelligent welding robot system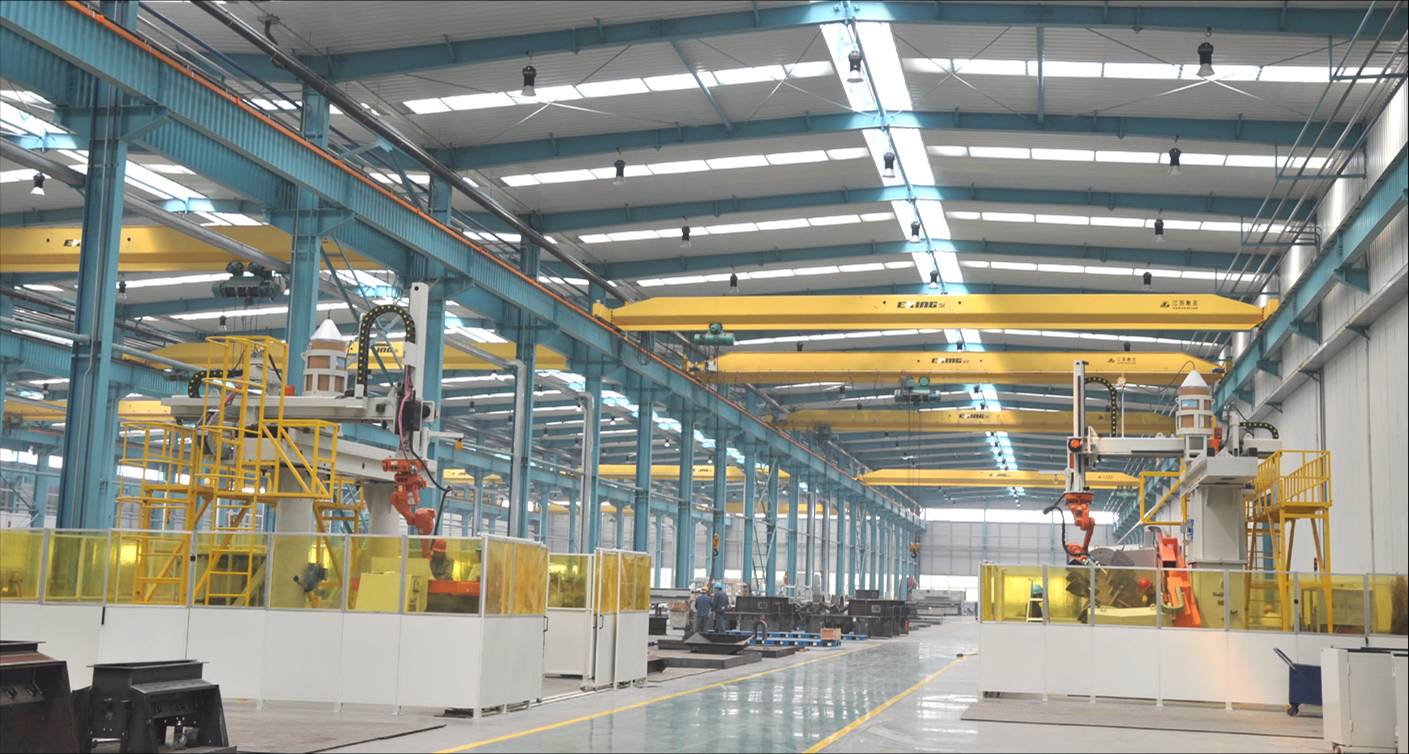 Intelligent painted lines
(3) Globally most advanced, biggest manufacturing and R&D base of the industry

4 Good service
(1) Muyang perfect delivery system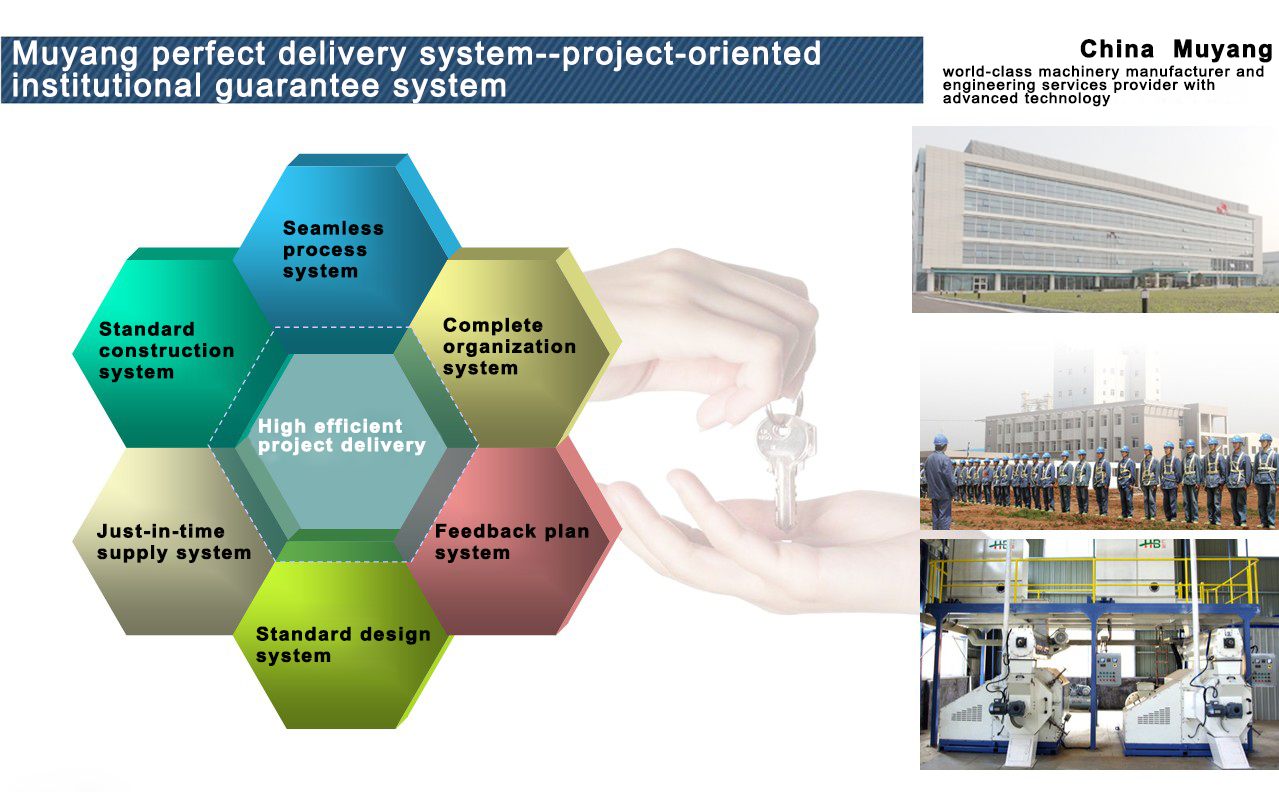 (2) Gold service
Currently Muyang marketing and service network cover around the world in more than 80 countries and regions with branches or offices. Muyang has a strong localized sales and service teams, providing global customers with localized pre-sales consulting, solution design, product customization, project implementation, equipment installation, maintenance, warranty and all other services.
Muyang creates gold service system for the clients. Customers can call 24 hours service hotline. Muyang gold service system will respond to customer at the first time, providing customers with convenient, comprehensive, expert advisory services.

Face-to-face expert, service without distance!
Muyang products have been successfully applied to the world's leading feed production enterprises as follows: