| | |
| --- | --- |
| FAMSUN SWFP Series Fine-Grinding Hammer Mill | |
--Better to do well than to say well.
To save 30 million yuanes per year will no longer be a dream
Specialized for the fine grinding of pre-crushed various brokens in feed, food and oilseed industries. Pre-broken coarse initial materials like cereal grains, oil cakes and meal in particular.
High capacity
Patented axial air inlet and water drop shaped step grinding structure and tuning technology for optimal grinding; widened grinding surface(1.5 times of normal), capacity increase 25% possible.
Stable performance
Rigid structure, optimal hammer arrangement and dynamically balanced high-precision rotor, stable running and low noise; reversible rotation, long service life.
Friendly operation
Patented one-step screen hold-down device and fully-open sliding doors, easy access and maintenance; CE standard design for human & machine safety.
Customized solution
We offer customized solutions for machine size, feeder, screen, aspiration system and underneath hopper etc
Low power
One grinding machine (160kW) can yearly save 498,000 kWh and reduce cost of 298,800 yuanes. Hence, choosing SWFP series, saving 30 million per year in ultra-fine grinding is no longer a dream.

Superstable running
Helped by Special grinding chamber optimization design, the current keeps stable in the process of grinding running with fluctuations not more than 2%.
[1] Taking feed company of annual output 100,000 tons as an example, it needs about 60,000 tons of corn to crush, compared with double rotor crusher, Muyang Third Generation SWFP Series Fine-Grinding Hammermill (SWFP66 × 100C, 160kW) can save about 8.3 kW.h / t, equal to 498,000 kWh of electricity per year, a reduce of annual cost 298,800 yuanes according to 0.6 yuan/ kilowatt-hour.
Main characteristics:
| | | | |
| --- | --- | --- | --- |
| | With reducing hammer amounts and former four sets of hammer increasing to eight sets, homogeneous beating and dispersion, beating frequency increase, grinding efficiency is enhanced. | | The top of grinding chamber adopts a new-type adjustable support device, ease of installation and adjustment, helpful to destroy top circumfluent material layer and thus further enhance safety and grinding efficiency. |
| | Adopting of new-type adjustable screen hold-down plate, adjusting and adapting to hammer size errors, destroying circumfluent material layer, thus further improve safety and grinding efficiency. | | Air entering from shaft end and passing screen surface in shaft direction, effectively changing movement direction of raw materials, destroying circumfluent material layer, accelerating screening of small-sized particles, lowering temperature of grinding chamber and making grinding more complete. |
| | Adopting taper sleeve fabricated bearing structure for rotor, ease of installation and adjustment, enhancing rotor operation safety. | | Through optimal design for machine structure of SWFP66Cseries, further reducing equipment vibration, improving its safety and reliability. |
Detected by authoritative department action speaks louder than words:
Series Fine-Grinding Hammermill can realize significantly higher capacity and lower ton power consumption.National authority proves larger capacity of grinding fineness:The result detected by Chinese national authorities (National Fishery Machinery and Instrument Quality Supervision and Inspection Center) show: in comparison with similar products, Muyang SWFP66 × 100C
Application and adaptability:
It is suitable for coarse-grinding and micro-grinding of various granular grain materials, such as corn, sorghum, rice, wheat, soybean meal, cottonseed meal, rapeseed meal.
It is appliable for micro-grinding of various large-,medium- and small-sized aquatic feed and special feed production. It is also suitable for micro-grinding in the industry of pharmaceutical, alcohol and solvent.
Sieve hole mainly used is 0.5-3.0mm.
3D flow, taking the lead in industry:
Paying close attention to the overall performance improvement of crushing system and setting thousands of grinding practice, Muyang process development experts, optimize and design the newest grinding process and configuration. After crushing raw material, crushed material will be collected through settling volume and impulse dust-cleaning, conveyed horizontally by enclosed auger and transported by bucket elevator to next equipment or silo.
Breakthrough in performance, decrease cost and increase benefit:
Muyang new third-generation series fine-grinding hammermill (SWFP66 × 100C), high capacity, low-power, super stable, professionally suitable for crushing processing of aquatic feed, livestock and poultry feed, sieve hole can be chose between Φ0.5~ 3mm and particle size feature range from 30 to 60 mesh in the process of superfine grinding.

At HuaGang & Tequ, A large number of customers witness the scene:
On August 18, 2009, in the feed factory of HuaGang Agricultural Group at City Nanning of Guangxi Province of China, more than forty heads and senior manager from Chinese well-known enterprises such as Tongwei Group, New Hope Group, West Hope Group, CP Group, Zhengbang, Yangxiang, Twins, Liyuan and Fufeng collectively witnessed a test of high-capacity for the Third Generation SWFP Series Fine-Grinding Hammermill.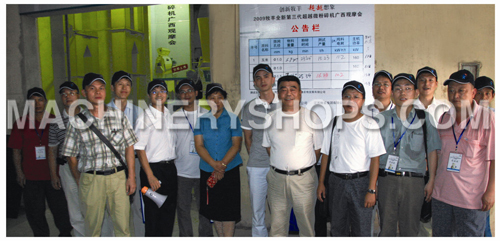 On October 14, 2010, in Wuhu Tequ Agriculture and Animal Husbandry Technology Co., Ltd., a large number of feed field entrepreneurs from Tequ Group, East Hope, Yang Xiang, Shuanghui Group witnessed together the new breakthrough of capacity on Third Generation SWFP Series Fine-Grinding Hammermill.
Step instruction:
1、Click "type" and "power" to choose the type and power of commodity you need.

2、 Click "add to cart"to adding commodity to cart. If the commodity you are purchasing has no accurate price, please click "add to inquiry basket" and fill in your personal information. Our staff will provide quotation for you when verify the orders and automatically help you to complete the purchasing list.


3、You can choose needed logistics way and delivery place when purchasing.

4、 Our staff will provide quotation according to your chosen logistics as verifying the orders. You can click "to pay" to check price and payment. If you have any question about quotation, please contact our staff in time for answers.

Payment methods:
We support online PAYPAL payment and offline TT payment. Please inform our staff after finishing the payment.
Quality description:
All of our machinery are tested strictly when shipped from factory. And we apply machine one-year warranty.
Contract description:
Generally, we default the online order as the contract. If you need a formal contract, please contact us, we will provide you with the formal contact.
Delivery:
1,Once the advance payment is received,we will arrange production The percentage of advance paymen must be 30% of total amount.
2, Delivery time for single machine is at least 45 days and usually about 2 months. For the complete equipment, we will make proposal, design drawings and confirm with you, thedelivery cycle about 3 months.
3, Total amount must be paid prior to the delivery. TT and online payment are accepted.
4, If you are not satisfied with the offer of logistics, you can appoint logistics company.
5, One-time delivery and partial delivery both are allowed.
6,For machines, sea transportation is recommended; for accessories and parts, air transportation is optional.
7,All price information on website is for reference only, final quotation will be determined by our sales staff according to customers sutitation after inquiries and orders received.
Note:Under special circumstances, the date of delivery will be extended for a reasonable length of time.
Country of origin:
Products are manufactured by Jiangsu Muyang Group Co.,Ltd. of China. Adopting international advanced technology, Muyang imports large proportion of components to do the final assembly.
Acceptance of the goods:
A check on appearance should be made immediately when the equipment is transported to the destination. If it is sure there is any damage caused during transport, a necessary claim procedure must be taken according to the supply contract. The repair expense shall be borne by relevant risk undertaker.
Maintenance and cleaning
Only professional persons can carry out maintenance and shall well know relevant stipulations in the documents provided by us. These stipulations are helpful for keeping the equipment in good condition, reducing wear and prolonging the service life. Cleaning shall be done according to relevant legal stipulations and explanations in the documents provided by us.
Storage
The equipment, which cannot be installed in predetermined place immediately, must be stored in a weatherproof place with facilities against external infringement in original packages. Any loss arising from storage shall be only conducted as per the principle specified in the Supply Contract.
Installation
The equipment and parts manufactured by Jiangsu Muyang Group shall be installed only by the trained technical personnel based on installation specifications provided together with the equipment.
Startup and commissioning
Startup and commissioning shall only be done by trained personnel. The instructions and operation regulations in provided documents before startup. Lubricating before startup, such as oil for variable speed devices.
Accident prevention
The accident prevention rules in related documents must be well known and MUYANG Group devotes to manufacturing machinery equipment according to Standards (CE Certification Standards).
Customers shall tell us the local manufacturing. Additional expenses there from shall be borne by customers.
Contact us
If you have any questions or after-sale problems, please contact us in time.
TEL:+86-02134970680(00:00--10:00 GMT)
E-Mail: machineryshops@muyang.com
Breakthrough in performance, decrease cost and increase benefit :
Muyang new third-generation series finegrinding hammermill (SWFP66 × 100C), high
capacity, lowpower, super stable, professionally suitable for crushing processing of aquatic
feed, livestock and poultry feed, sieve hole can be chose between Φ0.5~ 3mm and
particle size feature range from 30 to 60 mesh in the process of superfine grinding.